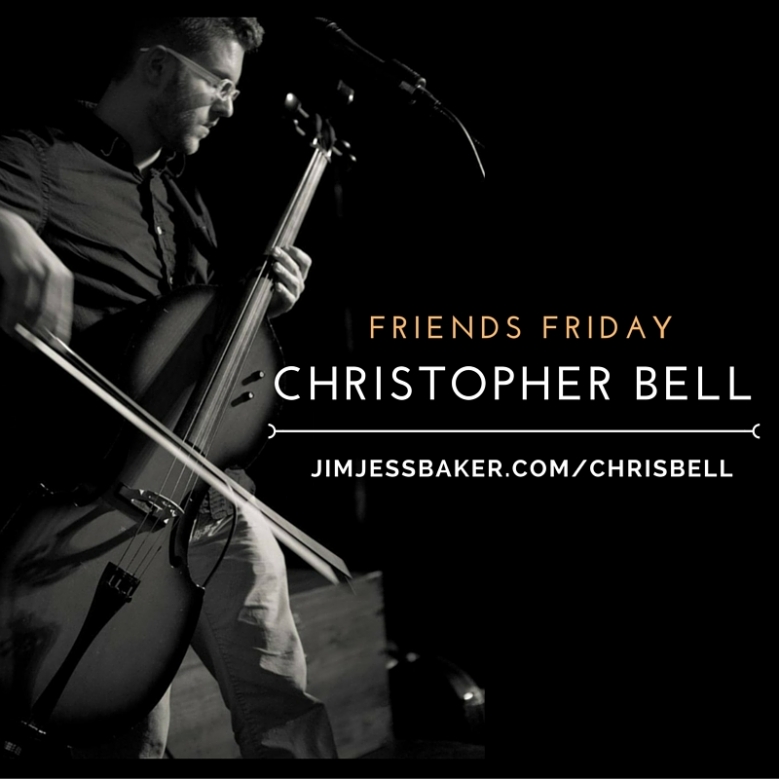 I started out this series calling it inspiring mondays but I like friends friday better.
Anyway, this week we are joined by the amazing Christopher Bell.
Christopher Bell is a cellist/audio engineer based out of Upstate NY. When not traveling around playing music he enjoys cross country skiing and hanging out with his neighbor's cats.
I met Chris in the late 90's at a summer camp in Western NY.  I have a vivid memory of him having a shirt that said POLSKA.  And If I'm remembering correctly we played a chevelle tune at the camp talent show that year.
Since then Chris has done some amazing stuff and is a person that really inspires me.  Things like using the cello as his main instrument, going on tour in a canoe, and incorporating other ethnic sounds into his music.  Chris I've seen you really push yourself and achieve some amazing dreams.  I really appreciate our chats, I always leave inspired.  I'm gonna let people check out this video of a cover you did that makes me smile and then I'll let you tell us a little about you.
What do you do?  
Musician, Audio Engineer
How'd you get started in that?  
I wanted my band to have a recording, so i started with Windows Sound Recorded.
What is the most amazing thing you've seen?
Landscape of New Mexico and Arizona
What is the most heart warming thing you've seen?
Looking back and seeing the sacrifices my father made while my mother was dying as well as his raising me as a single parent for 6 or so years.
What is the craziest thing you've ever seen?  
I once stayed at a place on tour where the house was so dirty there was a line of ants eating a dead cockroach.
What is the most encouraging thing anyone has ever said/done to you?  
Not one thing, but connecting with people and learning i'm not as strange or a black sheep as i initially thought. That was encouraging to know that maybe I didn't have bad ideas, and it was ok to march to the beat of my own drum.
What's your biggest mistake?  
Not pushing myself more as a child. Being cocky and
What's your biggest struggle and how did you overcome it?  
my biggest struggle was putting in the work to get where I wanted to go, and to overcome that, i just needed to canoe from Buffalo to NYC.
What keeps you inspired to keep going/creating/working?  
reading, learning new things.
What disciplines in life do you depend on to be consistent? 
I have a set schedule of working out 6 days a week, house cleaning/groceries on sundays. Studying, reading, and at least 1 movie a week.
What does your average day look like?  
I wake up between 8 and 9:30 depending on if I have class. If a class day, then its college, home, nap, work, practice cello, exercise. On no class days its work, practice, exercise.
If you had a million dollars what would you do with it?  
Most to savings, some to pick up a few things
What's your most recent go to favorite food/restaurant? 
Indian Food
Whats music have you been listening to lately?  
I've been studying carnatic music, a south indian style of music, and listening to that a lot lately.
What tv show have you been watching?  
Black Mirror
What's the latest movie that inspired you?  
World's Fastest Indian
Share with us something most people don't know about you?  
too much an open book for that.
What have you been doing for fun?  A current hobby?  
Cross Country Skiing.
Chris thanks so much for being an inspiring friend and for doing this interview!  If you'd like to hear more of Chris' music or connect with him do so
here
.
Inspired?  Leave a comment and let us know what you think, and let us know who we should interview next!
(Visited 20 times, 1 visits today)