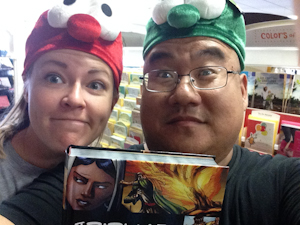 I've tried to anticipate some questions you might have, so here's my attempt at that… updated 5/20/15
What do you guys do?  
Jess is staffing the third School of Biblical Studies (SBS).  This school started in September 2014.  The School of Biblical Studies is a 9 month school where students inductively study the whole Bible.  Jess serves as a staff member who grades homework and also does some teaching.  The students have about 9 hours of lecture a week, learning about the historical context of the book they are studying as well as covering some of the more difficult passages.  The students then have about 40 hours of homework where they make observations and interpretations of the text based on the original context it was written in.  She also is on staff with the Monday night Community Bible Course which is open to the public.
Jim  is in a transition period right now.  He is working on a book entitled "How To Raise Support" which will give volunteer ministers who are responsible for raising their own funding practical steps on how to do that well.  He is also working on a podcast called "Doing Ministry Well" where he interviews people in ministry and asks them about their journey and how to do ministry well.
Jim is also active in his church Streams of Life.  He serves on the leadership team, as well is the volunteer worship coordinator.
Jim also plans all of the logistics for The Bakers Ministry short term missions trips.  Which includes, working with local contacts to set up ministry opportunities, securing housing and food, finding a team, communicating with the team and instructing them on how to fundraise, processing donations, arranging travel, and coming up with daily team time activities that will foster team unity and growth.
Oh, Hawaii… what a rough place to serve the Lord…
Was that a question?  We do hear this one a lot.  We are indeed WORKING in Hawaii, we don't live at the resorts, we don't sit on the beach everyday with fruity drinks with umbrellas.  We are about 3 miles from Waikiki, but our living conditions are anything but luxurious.
Let me remind you that YWAM is a volunteer organization, which means you're more than welcome to come and serve alongside us in Hawaii.
Plus we won't hear this one in 3 months as we're moving to Tennessee

Why do you do what you do?
[A photo of Jesse one the previous School of Biblical Studies students sharing the gospel in Nepal.]
The photo above is why we do what we do.
Jesus' last words to His disciples are recorded in Matthew 28:18-20
18 Then Jesus came to them and said, "All authority in heaven and on earth has been given to me. 19 Therefore go and make disciples of all nations, baptizing them in the name of the Father and of the Son and of the Holy Spirit, 20 and teaching them to obey everything I have commanded you. And surely I am with you always, to the very end of the age."  
YWAM is still mobilizing missionaries to preach the good news of Jesus Christ worldwide and we love playing a role in facilitating that.
We also love leading teams of young professionals on life changing trips with The Bakers Ministry.  Please read a testimonial below from Hannah who joined us for our first trip to the Philippines and co-led our trip to Jamestown.
I am so thankful for the Baker's ministry. Jim and Jess lead with such grace and wisdom. 
Aside from what the Baker's do with YWAM, they have reached out to me, a young working professional, and helped me continue to grow in my personal calling, and ultimately, they help me love God more. 
This year, the Baker's invited me to join them and a few other working professionals like myself, on a week-long outreach in the Philippines. People like myself, who work full-time here in the States, can easily slip into the selfish chase of the American Dream. We become insensitive to the needs of those outside of our comfort zone, especially those in the third world. The trip inevitably opened my eyes to needs I never knew existed, but also created tension within my heart and mind. It was difficult for me to see such poverty and injustice, then return to my safe, comfortable home in America. 
Throughout the trip and since I have returned home, the Baker's have been very intentional about reaching out to me and helping me understand and work through my experiences in the Philippines and returning home. They are helping me to see what my possible role is in God's Kingdom, and they are encouraging me to seek God's wisdom and plan, rather than try to forge my own. 
My trip and my relationship with the Baker's has not only blessed me, but also friends and colleagues who ask about my trip. Honestly, it is very rare for people in my field of work to sign up for experiences like the Philippines trip, and so when they listen to what I have to share, they are evidently blessed and encouraged. It is truly a ripple effect! 
I am thankful for the Baker's consistency and intentionality in reaching out to me. God is truly using them to help me become the healthy, whole Christian I have been called to be. 
What is YWAM?  
YWAM is an acronym for Youth With A Mission.
YWAM is an international, interdenominational Christian missions organization.  It was founded in the 1960′s by Loren Cunningham who had a vision to see young people released into the mission field.  (This was something that was not happening during that time.)
It currently has over 1000 operating locations in 180 countries.
Their mission statement is: "To know God and make Him known."
You can read more about the organization from their website.
What is The Bakers Ministry?
The Bakers Ministry is a 501c3 organization that we started a few years ago that supports us and many through us as we serve here in Honolulu and around the world.
We have the privilege of leading this ministry organization along with a solid board of Trustees located in Maryland.  Together, we set vision and direction for our own personal training and development, our local ministry endeavors through YWAM Honolulu and the local church, the authorship and publishing of original ministry resources, and international missions trips.
The Bakers Ministry board of Trustees meets at least annually to discuss and set the vision and future of The Bakers Ministry.
What is going on with The Bakers Ministry?
In the spring of 2014 The Bakers Ministry led it's first short term missions trip to the Philippines, which was a huge success.  Last summer we also ran our first stateside trip to Jamestown NY with the Bakers Ministry and it also went really well.  The Bakers Ministry trips partner with established ministries to encourage and serve the established work in that region.  The trips also serve as a retreat for busy professionals so that they can be refreshed and reconnect with God and hear what He is saying.
All of this work is separate from our responsibilities with YWAM.  We hope to be leading more short term trips to Asia and in the states in the future.
The Bakers Ministry is also looking to produce and publish instructional and inspirational content in the near future.  Jim has a heart to provide practical and accessible materials to people with a heart to serve the Lord.  Jim is currently working on a book called "How To Raise Support" which will instruct missionaries how to look at support raising as a ministry, and tangible steps to making their fundraising more effective.  As well as producing a podcast entitled "Doing Ministry Well."
How do you get paid?
The Bakers Ministry gives us our salary, but that salary is raised through the personal fundraising efforts of Jim and Jess Baker.  We receive no compensation from YWAM as it is a volunteer organization.  Everyone in YWAM from the founder on down raises their own funding.
We currently have a team of people that recognize our calling, believe strongly in what we are doing and what we want to continue to do, and are generously donating to The Bakers Ministry on a monthly basis.  We currently have monthly donors giving from anywhere from $50 a month to $500 a month.
If you are interested in partnering with us financially please let us know.  If you want to give a one time gift you can use the paypal donate button below.  All donations are tax deductible.  You will be giving to the BAKERS ministry 501c3 to help us with our living expenses while we are serving  YWAM and continuing our ministry with The Bakers Ministry.
If you are interested in partnering with us on a monthly basis please contact us at jimjessbaker (at) gmail (dot) com.  We will get you an ACH form so that your donation will be deducted automatically from your bank account once a month.  Or you can use paypal to set up a recurring donation.
Do you expect that I will give financially?
Nope, if you like what we're doing and feel led to contribute then that's great!  If we ask you about the possibility of making a donation, just be honest with us.  We do our best to be up front and try not to turn this into a shady sales pitch.  If you don't want to, or can't make a donation, being up front with us helps us a lot.
Is it hard living off support?  Don't you feel like you're begging people for money?
Is it hard?  Yup, at times.  We've made obvious sacrifices to live the way we're living.  But we believe that the trade off is worth it.
We don't feel like we're begging people for money, we fully believe in the work we're doing, that's why we're doing it.  And we're asking people to partner with us in that work.
We are not alone in fundraising.  There are many other non profits and ministries that require donors to function.  Many of the arts programs in your city are completely donor funded.  We have found that there are people who greatly benefit and enjoy sowing into ministries just like donating to their favorite art foundation brings them much joy.
We are blessed by a current group of supporters that have expressed that they are truly blessed to give and are invested in the ministry we're doing.
If we were to be asked, "What would you be doing if money wasn't an issue?"  We would reply, "Exactly what we're doing."   We believe that living the way we do is how God has uniquely called US to live, and has its own unique set of challenges.  We love that by living this way we can truly live life prioritized on our own personal values.
Missions in Hawaii?  Aren't you suppose to go to Africa?
We've been to Africa.  Besides sending out missionaries, YWAM also runs training schools that aim to equip people to be more effective in their ministry wherever they are.  We are working with the training aspect of the organization.  YWAM Honolulu has a rich history of sending out long term missionaries to South East Asia.  Jess has the great opportunity to work with young twenty somethings who are willing to spend 9 months studying the whole Bible.  We believe that providing a course for these missionaries to get a solid grounding in the Word Of God is extremely valuable.  These students then go all over the world, equipped and ready to share the good news.  We also have led international trips with The Bakers Ministry to the Philippines partnering with long term missionaries there and plan to continue.
You move around a lot, do you have ants in your pants?  Really what's that about?
It's true, we have moved around a lot, Tennessee will be the 5th state we've lived in our 5 years of marriage.
We believe that life is about two things.  Loving God, and loving people.  (Luke 10:25-28)  We believe that God has called us to live a unique lifestyle that allows us to be available to go where He calls us to go, when He calls us to go, so we are being obedient to what we believe the Lord is calling us to.  In hindsight, we can see clearly that everywhere we have gone, God has sent us there to invest in relationships with people.
You guys make me uncomfortable, can't you just settle down and get a "real job"?
We believe, for US, as Christians, that there is no job more real than the hands on teaching and equipping of people so that the good news of Jesus Christ can go all over the world.  We are doing our best to live by our values of making God our number one priority.  keep reading… 
Am I expected to live like you two?!
Nope.  Jesus' model for life and ministry was to only do what He saw the Father do.  (John 5:19-20)  Our hope is that you would find peace in being obedient to whatever the Lord is calling YOU to do.  He created us each with a unique calling and then gave us unique personality, talents and giftings to fulfill that call.  Ask Him if you're walking in the fullness of what He has for you.  If He tells you you are right on track, then find such peace in being obedient and don't live by comparison to anyone.  If He tells you to pack up, sell your house, and move to a third world country, then we encourage you to be obedient because God's plan is the best plan for your life.
You probably know if there are areas that you need to obey Him in.  We've learned along the way that it's a lot easier to obey Him if you TRUST Him.  Trusting Him and His plan is always best, because He always has our best interest in mind.  Trust is something that is built.  It would be much harder for us to trust God on the level that we trust Him today, five years ago, or even one year ago.  We've walked through a lot individually and as a couple, and we've stepped out in faith many times. Every time, we've seen God's constant miraculous provision for our lives.  Each time we experience His provision for us, it gets easier to trust Him with bigger things.
Jesus tells us to seek FIRST the Kingdom of God and then promises us that He'll take care of the rest.  (Matt 6:25-34)  We feel like God has told us to do our part (seeking first the kingdom) and He promises that He will do His part.  He has and continues to do so.
So what's after this?  Do you have any kind of long term plan?
Great question!  Our time at YWAM Honolulu is coming to a close after 3 years.  We will be moving to Tennessee to partner with the pastor who married us.  He has asked us to come out and help him with his ministry RED Schools which are 12 week discipleship courses that meet weekly and are planted in local churches all over the south east.  Our hope is that The Bakers Ministry will continue to grow and we will be leading more short term trips as time goes on as well as assisting the growth and influence of RED Schools.
What is the relationship between your work with YWAM and The Bakers Ministry.
Jess plays important roles at YWAM Honolulu.  She is serving a ministry that has a legacy of pioneering long term missions work in South East Asia.  By being here our hearts have been rekindled for the great commission, mobilizing missionaries to the nations.
While we are helping train and equip young missionaries, we've also gained valuable leadership training in how to lead and manage a missions organization.  Jess is gaining valuable knowledge in the Word of God and has grown so much in her teaching and confidence.  Jim has been able to see and learn about a lot of the administrative behind the scenes day to day that keeps a ministry going.  On our trip to the Philippines we were able to partner with The Nehemiah Houses which is a ministry that was pioneered out of YWAM Honolulu.
The Bakers Ministry started while we were living in Maryland in 2010.  We started up a Bible Study and a prayer and worship night with the people that God had placed in our path during that time.  This was a foundational time, where we got to see how gathering people in small groups, to study the Word of God and worship was vital, and will be a foundational value of our ministry in the future, wherever God leads us.
The worship night that we started did not continue, and the Bible study did for a couple of years, but asked to become separate from The Bakers Ministry.
As we were considering shutting the Bakers Ministry down because of it's lack of presence in Maryland, we felt that God gave us the idea to run short term missions trips, that also intentionally focused on individual and team growth and to invite our friends from Maryland.
On our first trip 2 of the 3 other members were from Maryland, and on our second trip, 4 of the people were from Maryland.  Even though we are not doing ministry IN Maryland, we are still ministering to the people of Maryland.
Our goal while once may have been specific to a region, is now so much more.  We hope and are sure that a contingency of people continue to be a part of The Bakers Ministry from Maryland, but we are open to anyone from anywhere.  We believe that our original vision was to small, and that God has expanded it!  We can even see The Bakers Ministry leading trips for churches in the future.  And partnering with the RED School network will give us access to more people to take on short term trips.
How can we be praying for you? 
Pray for our transition to Tennessee in July.  And pray that the ministry we do overflows from a place of intimacy with the Lord and a thankful heart.
What are some of your NEEDS?
We are always in need of more people partnering with us financially to help us with our monthly bills.
Jim is in need/want of a new computer.  His ideal computer would be a 13″ macbook pro with some upgrades.  Estimated cost $2000.
The Bakers will need a reliable, low mileage vehicle when they get to the mainland because they will be traveling and teaching all over in the South East.
Here's an EASY way to help us out financially if you shop on Amazon.  Basically, buy through our affiliate link; you pay the same but we get a 4% commission.  Details here.
Engage:  
Have a question we didn't answer?  Unclear about something?  Please feel free to contact us at jimjessbaker [at] gmail.com and we will do our best to answer it.