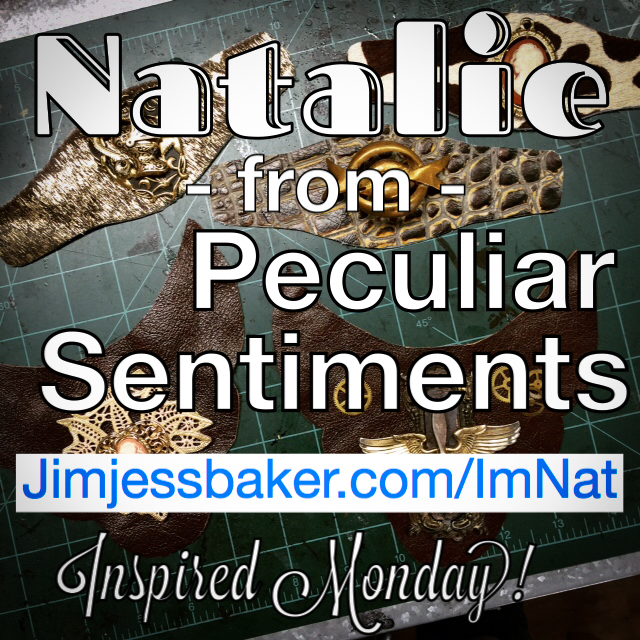 Happy Monday everyone!  I NEED inspiration in my life.  I feel at my best when I'm inspired.  I'm blessed to know a lot of inspiring people.  So from time to time on Monday's I'm going to highlight someone I know that inspires me and interview them!
I met Natalie in Nashville TN in 2003.  We recently got reconnected on facebook and I've been following her as she continues to pursue her passion of jewelry making!  I love creativity and small business and have been inspired by watching Natalie consistently to pursue her craft.
If you want to connect with Natalie or check out some more of her work I've included links to her facebook and her ETSY shop!
www.facebook.com/peculiarsentiments
www.etsy.com/shop/peculiarsentiments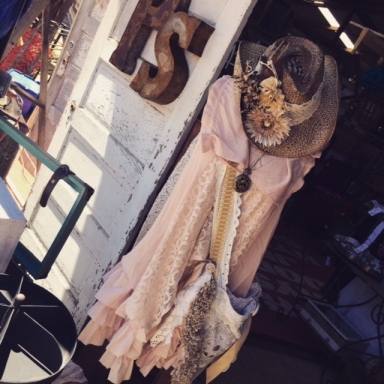 Natalie! Tell me what do you do?
I am a small business owner of a mobile boutique. I design leather jewelry that features repurposed, remade and "re-loved" items such as vintage jewelry, antique pocket watches, keys, and even hinges, door and drawer hardware!! 

That's awesome!  How'd you get started in that?
 I've been making jewelry since I was about 8, and I've always loved vintage pieces. When I was little, my grandmother gave me a box of her old costumer jewelry to use for "dress-up". As an adult, once she passed away, I wanted to find a way to use it and wear it. I went to school for Interior Design and worked for a firm that did custom furniture. They had TONS of leather sample swatches, and once they were discontinued, they were thrown away!! The crafter in me protested!! I started taking home discontinued samples and started playing with the idea of leather cuff bracelets, using my Nana's old jewelry. I made a few cuffs for myself and for friends, but it was just a hobby. 
Two weeks after my son was born, my husband left. Finding myself as the sole provider for a three year old daughter, and a newborn son, I was determined to remain a "stay at home mom". I began selling my jewelry at antique shows, upscale flea markets, artists markets, and online. 
Wow, I'm so glad that you've found something you enjoy that allows you to live the lifestyle you want to live even amidst difficult circumstances.  Tell me what the most amazing thing you've seen is ?
Hmmm..That's a difficult question- there are a LOT of pretty amazing artists out there… Probably one of the most recent things I've seen is this lady who makes AMAZING yard art out of old soup cans. She burns them somehow so they change colors and cuts and sculpts them into these intricate designs.. 
What is the most heart warming thing you've seen?
Anytime I see vendors helping other vendors, it makes my heart happy. Most small business owners have a story- and many that I've met have been through difficult times, endured loss in some form or another. The spirit of community and family always takes me by surprise and makes me feel part of something precious.
Yay for community!  What is the craziest thing you've ever seen?
Driving to and from shows, you see all kinds of things- including other vendors on their way to set up. There's one guy who insists on loading his trailer to overflowing- full of metal yard art. I don't know how he does't lose stuff on the road- nothing is roped down or secured- just piled about ten feet high in his trailer, pulled by a rickety old pickup truck. 
Haha, I can imagine that scene in my head quite clearly.  What is the most encouraging thing anyone has ever said/done to you?
Someone once told me they could sense my heart in my artwork. That made my day- it's what I try to convey through each piece I make- a sense of love, passion and uniqueness. 
What has been your biggest mistake?
I don't know if I have one I would consider my "biggest" mistake- I'm constantly making mistakes and figuring things out. There's no manual or guide, so every day is trial and error. I think one of my biggest mistakes would be just giving things away instead of selling them- I love to design, to create- I am NOT a sales person. If someone loves something I've made, I would just as soon give it to them. But I am in business. I have a family to support. 
Yeah I think pricing is one of the hardest parts about small business.  What's your biggest struggle and how did you overcome it?
Finances are probably the most difficult and the most frequent struggle. I started my business with no loans, lines of credit, or borrowing. I had to be incredibly meticulous about how every penny was spent, reinvestment, put aside, etc. Honestly, God has provided in ways far above and beyond anything I could have expected. 
That's awesome that you've been able to start your business like that!  What keeps you inspired to keep going/creating/working?
My kids. Knowing that I am doing this so I can stay home with them, homeschool them, raise them to love Jesus and serve Him and become "arrows for the Kingdom"… that's what keeps me going. 
That's awesome, you sound like a great mom!  Who or what resource has been inspiring you lately?
I've been reading Madeleine L'Engle's book "Walking on Water: Reflections on Faith and Art". While I don't agree with all of her theology, she has some amazing insights to what it means to be a Christian artist. 
What gear have you been using that you are loving?
I've been playing with this stuff called Ice Resin- it's a really versatile resin for jewelry making and mixed media projects. I have a weakness when it comes to trying out new craft and art products. 
What disciplines in life do you depend on to be consistent?
Perseverance is huge; having your own business takes a lot of guts, sacrifices, and hard work. It's all trial and error. Using mistakes and slip ups to learn and grow instead of being discouraged and down trodden is key. 
Perseverance is huge!  I wish they taught that in school haha.  What does your average day look like?
The average day always starts with coffee. I try to get in a little bit of gardening and housework first thing in the morning, and then jump into "work"- answering emails, ordering supplies.. most of my creative bursts happen late at night— when that happens, it's the wee hours of the morning before I can fall asleep.  
I think coffee and inspiration go hand in hand.  Any encouragement for people wanting to get into a career like you are in?
Owning your own business is amazing, but it is HARD work. There is no set-in-stone way of doing things- it is trial and error. My advice would be this: Treat it as a full time job. Get up, get dressed, have your coffee, and start work. When you are working for yourself, it is ALL about what you put into it. Have a schedule, set goals- both short term and long term. I like to tackle my least favorite tasks first- that way, I look forward to getting on with the part I love, which for me, is design. 
Natalie, If you had a million dollars what would you do with it?
Travel. I would go all over the world and buy unique vintage pieces, come back to states and open a little boutique attached to a Bed and Breakfast.
What's your most recent go to favorite food/restaurant?
I'm almost ashamed to admit it.. but right now, my go-to is Torchy's Tacos. I'm a sucker for spicy food. 
Haha, that's awesome.   Whats music have you been listening to lately?
I've been listing to a lot of "Broods" and "Daughter". 
What tv show have you been watching?
I love almost any BBC drama. I'm catching up on the BBC series "Sherlock" on Netflix right now. 
My wife loved Sherlock.  What's the latest movie that inspired you?
I don't remember the last "grown up" movie I've seen. Most of the movies in my life consist of talking vegetables and cartoon fish. 
No inspiration from veggie tales and nemo?  Share with us something most people don't know about you?
I'm a bookworm. So far with year, I've read 38 books. It's my favorite way to unwind at the end of the day.  
WOW.  That's amazing.  I've heard it said that leaders read and readers lead.  What have you been doing for fun?  A current hobby?
I've always loved writing. I journal and write some poetry- no one sees it, but it's a nice outlet. I'm also trying to improve my photography skills. 
Awesome!  Natalie thanks so much for taking the time to be interviewed.  We wish you the best in your creative business!
Here's a few more pics of Peculiar Sentiments work!



Please connect with Natalie and support local creative business!
www.facebook.com/peculiarsentiments
www.etsy.com/shop/peculiarsentiments
Do you like Inspired Mondays?  Love Natalie's work?  Comment and let us know!
(Visited 184 times, 1 visits today)