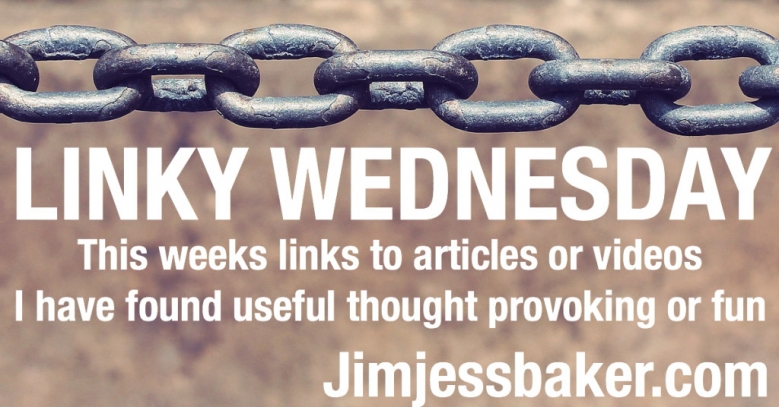 If you are having problems viewing this please click on this link to see it in your web browser.
 http://jimjessbaker.com/linky-wednesday-05-04-16/
Sorry for the lack of blog posts. Spring is BEAUTIFUL in Tennessee and with a dog and a new home I'd much rather be outside than sitting on my computer writing. But nonetheless here's a new linky Wednesday

Have I posted a video of this guy before? He's crazy, but I feel like I learn things every time I watch his videos. I watched it at 1.5 speed since its an hour long.  I've seen one other of his videos and he does things that I would have never thought of that make a lot of sense.
==
I recently discovered reddit.com  I've seen it a bunch of times and never really understood it.  But I finally made an account and am really enjoying it.
==
This dog harness is called the gentle leader.  A few people had recommended it to us so we decided since Karl is about 50 lbs now that we needed to stop him from pulling when walking.  This thing is a miracle worker.  Totally worth it if you're having trouble walking your dog.  The front part goes around the dogs snout, and the back part goes around his neck and back of his head so when he pulls his head gets pulled as well which the dog doesn't like thus keeping him walking like a good boy

Buy one or anything from our affiliate link:


==
Other tidbits… Karl went on his first camping trip last weekend.  He did great.  We discovered anything below 60 degrees at night is cold.  It doesn't seem like it would be, but it is, pack out a good sleeping bag.  Karl always brings his sleeping bag with him (fur) but my friend Mark who only brought a fleece was cold.
==
Did you find something in this week's Linky Wednesday useful?  Please click the LIKE and SHARE button below!  
(Visited 26 times, 1 visits today)