This morning after breakfast I read this on facebook.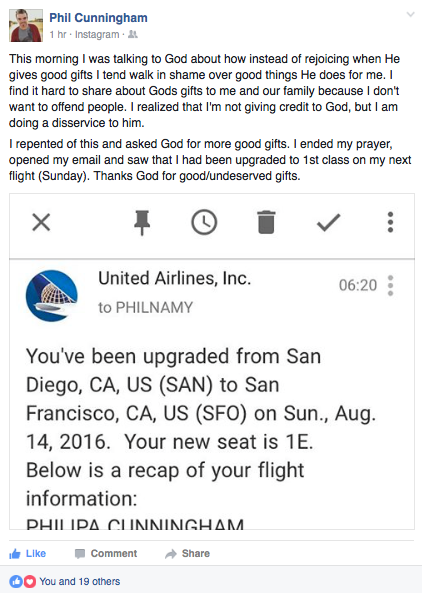 And it got me thinking…
Why is a generous God offensive?
We're offended because His generosity did not meet our expectations.  Maybe some jealous is creeping in, and we think we deserve that gift and didn't get it.  Hmmm…
Remember my $4000 computer provision?  I've shared that story and been accused of preaching a prosperity gospel.  If I was a prosperity preacher I certainly wouldn't be driving a rusty 2002 mazda protoge.
Ephesians 1:7 In him we have redemption through his blood, the forgiveness of sins, in accordance with the riches of God's grace 8 that he lavished on us. With all wisdom and understanding,
God's not stingy.  His grace is scandalous.  His love towards us is UNMERITED.  He loves you more than you know, and not because of anything you've done.  He really is a good good Father.
I was at an Ed Silvoso conference in Hawaii a couple of years ago, and I've heard Ed get called a prosperity teacher too.
It's not an exact quote, I lost my notes when my iPod died, but he said something like this:
God doesn't make you prosperous for you, it's so that you can be a blessing to your local community.  He challenged pastors who got a tax deduction because of their housing allowance to pour that money right back into the local community.
Convicting.
Ephesians 3: 20 Now to Him who is able to do exceedingly abundantly above all that we ask or think, according to the power that works in us, 21 to Him be glory in the church by Christ Jesus to all generations, forever and ever. Amen.
I love that language, exceedingly abundantly…
Michael Hyatt says "Never limit your vision based on your current resources."
God is an EXTRAVAGANT giver, and demonstrates that to us from who His is.  Generosity is in His character and nature.
And we are to be like Him in that way.
How has God shown His generosity to you?
Who can you be generous to this week?
What is the vision that God has given you and how can it bring the Kingdom of God to your local community?
(Visited 53 times, 1 visits today)