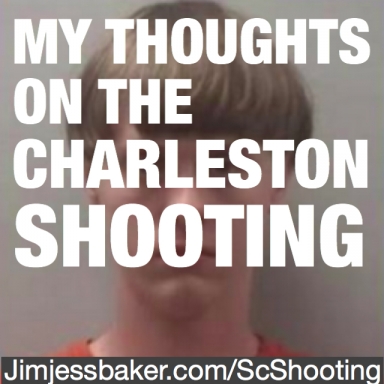 "Roof is said to have sat in the Wednesday night prayer service for an hour before opening fire."  [article here]
News of shooting inside of a Charleston church, white against black.  An hour outside of where my parents live.  This incident bothered me a lot.
What will it take to achieve peace?
The news references how easy it was for Roof to obtain a gun.
Will banning guns achieve peace?  I don't think so but maybe the number of fatalities would not be so high if firearms were not used.
It's peculiar to me that Roof sat for an hour inside of the church before beginning his violence.  It reminded me of the Columbia Mall Shooting.
"At the bottom of the escalator, on the first level, is the food court. Under the eye of another video camera, he lingered for about an hour, sitting, standing, pacing, Ulman said."
Why did these two young men wait an hour before doing their horrendous acts of violence?
What were they waiting for?  And what was going through their heads?
Violence creates fear, fear creates isolation and division.
But perfect love casts out fear.
What if in that hour before, someone approached these kids, smiled at them, shook their hands, asked them how they were doing and spoke a word of encouragement to them?
We HAVE TO BREAK DOWN WALLS of separation.  We NEED COMMUNITY.
For that to happen we need to step into people's lives with the message of their value.
1 John 4:18 There is no fear in love. But perfect love drives out fear, because fear has to do with punishment. The one who fears is not made perfect in love.
Are these kids acting out because they feel punished by society?
Do they know they are valuable?  Do they know they are created in the image of God?  Do they know that a loving God has a good plan for their lives?
How will they know unless they are told?
I'm not excusing their actions.  Once bullets start flying, discussion is over.  But I'm not excusing our lack of action either.
Living in Hawaii I've had to break out of my cold, east coast, introverted, leave me alone, don't make eye contact, I'm in a hurry attitude.  I've seen the value of making sure that you greet everyone in a room with aloha, a smile, a hug and a kiss on the cheek.
We cannot allow the effect of violence to create more fear.  Let the works of the enemy spur us on to even greater love!
Let's lead with love and empathy.  Let's care for others.  Let's be initiators!  Let's believe that we can truly make a difference
If we don't believe and act on these things, then we've chosen our destiny.  One that is dark, separated and inhumane.
Would you smile at a stranger today?  Would you let your walls down?
That requires great vulnerability, walls are sometimes a needed defense mechanism.  But we're meant to connect and walls are a hindrance.
I'm not promising that everyone is going to receive you well.  But that's on them not you.  Bless and do not curse.
Can we keep our cool a little longer and realize we're dealing with other human beings?
What if every day you made it your mission to randomly encourage one stranger?
I close with something I just saw on facebook:
"They'll probably describe the 21-year-old who shot nine yesterday as a lone gunman. But someone shaped his ideology, made the apartheid-flag patches he wore, indoctrinated him, modeled gun use as a legitimate means to power and racism/white supremacy as a coherent ideology, and made high-powered guns readily available; no one made him do it, but many made him." – Rebecca Solnit
 Lets take responsibility for the world we live in.  Let's have conversations, lets listen to other opinions.  Let's love with abandon, even strangers.  And let's listen to and mentor young men and women.
update: 06.19.15 – It looks like the church did indeed welcome Roof into the Bible study based on the testimony below:
and this article:  Charleston Church Killer 'Almost Didn't Go Through With It Because Everyone Was So Nice to Him' – Breitbart http://bit.ly/1d6CHyG
(Visited 166 times, 1 visits today)